OH6V.fi
Station interview. Radios, antennas and equipment.


Hamshack corner -

Our hamshack is located in back corner of our livingroom. (Old image)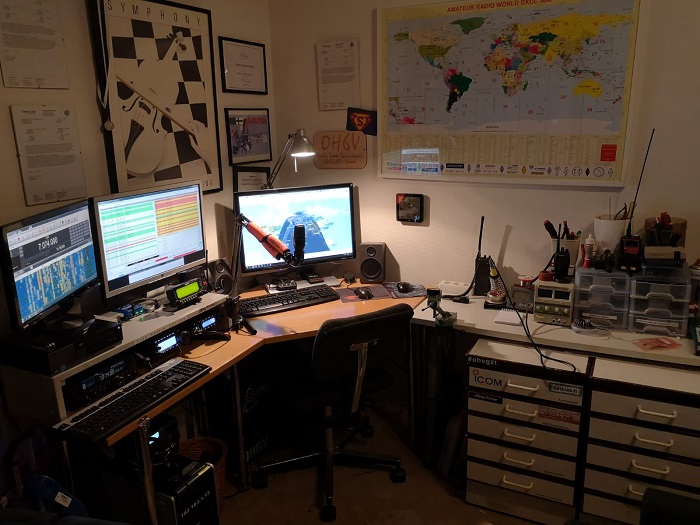 Radios

HF: Yaesu FT450AT, Yaesu FT450D, Yaesu FT891, Icom IC-735 + National NCX 5 line (NCX 5 not in use).
VHF/uhf: Kenwood TM-D710, Yaesu FTM-400DXE, Yaesu FT-790RII (70cm).
PSU: PSU-1228.DIG 13.8V / 28A & MSE MS-1228 13.8V / 28A, Icom PS-20 20A+.
Tuners: CG-Antennas CG-3000 wire tuner (@ antenna feedpoint), LDG AT200-Pro 2, 2x ATU100 "chinese"
Digimode interfaces: Home-made interfaces with galvanic isolating and CAT-control etc. for HF-radios.
Other HF: CX201 & CX401 antenna switchs, Comet CF-50MR 56MHz LPF,
Radioworks T4-plus and T4-500 RF-chokes. Heil Pro-set Micro for HF SSB, TE-systems 4410G 100W 70cm linear.
Receivers: Few RTL-SDR USB-sticks (generation 1 and 3).
APRS: Comarco Systems MDR150 5W RTX Dataradio, Microsat WX3in1.
DMR: SharkRF Openspot (legacy) + Anytone AT-D878UV with power adapter and speaker-microphone.
Radio PC: Dell 7010 Corei5 3.1GHz, 16GB ram, SSD etc. Dedicated for radio use with 2 monitors. Lenovo X201 laptop.
Radio Sever: oh6v.fi, Dell Optiplex 380 SFF, Intel C2Q 4-core 2.4GHz, 8GB Ram DDR3, 128GB SSD + 500GB HDD
Radiodesk - the main operating look. (17.5.2020)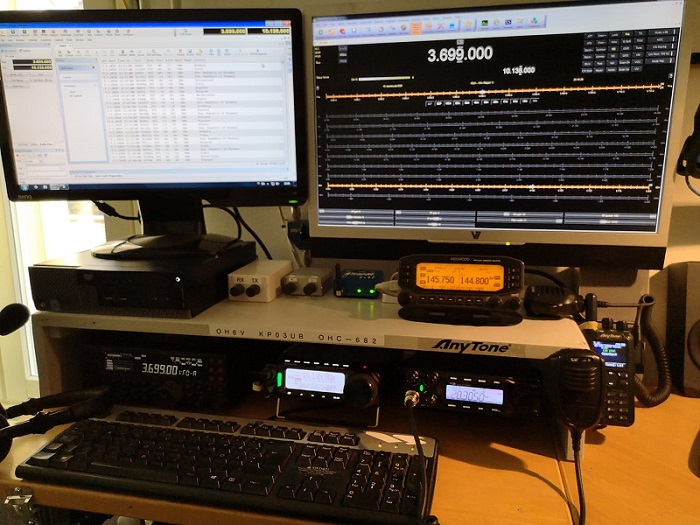 Static installed Anytone at-d878uv with Kenwood KMC-45D speakermic for DMR-QSOs and some portables behind..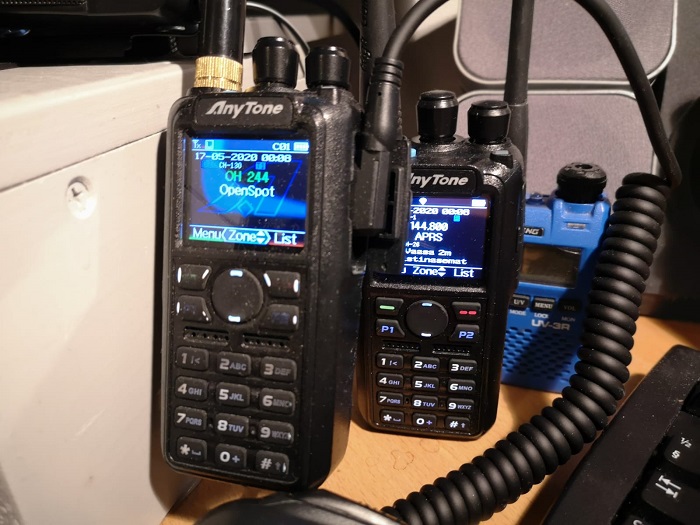 Antennas

HF.

40-30-20m quater wave vertical with feed-point tuner CG-3000. Tunable to 80-10m HF-bands.
Radial network contains 36pcs of different lenght of 0,75mm wires buried under lawn, total lengt over 150m.
10-11m "Flower pot" verical coaxial dipole

VHF / UHF + 1090MHz.

Sirio SD-1300N Discone 25-1300MHz for RX and 2m/70cm Repeater use.
Aerial AV1312 2m Dipole (APRS), Diamond V-2000 VHF/UHF+6m, Diamond X-300 2m/70cm + some homemade.
10/11m Flowerpot and the main HF antenna.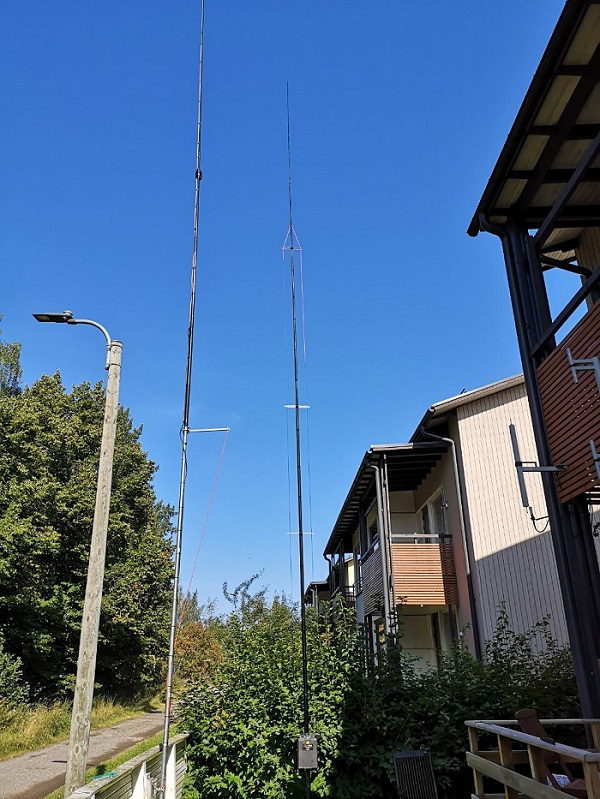 Main HF antenna feedpoint - CG-3000 tuner and Radioworks T4+ choke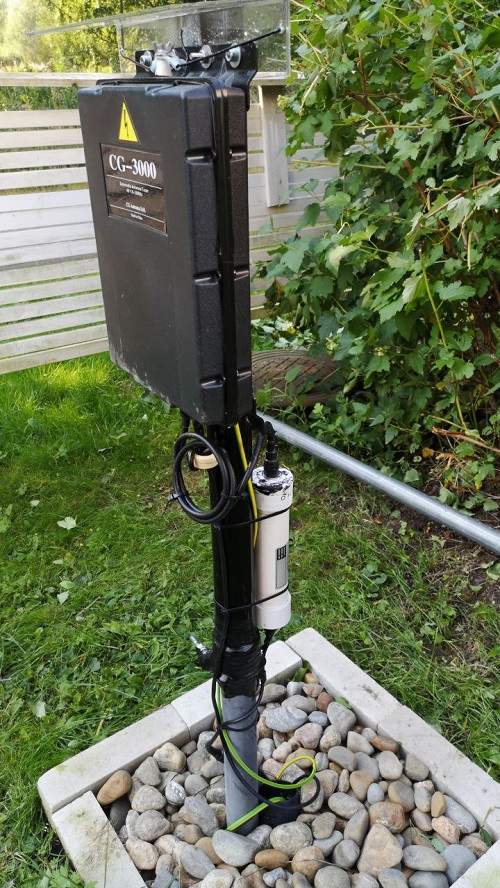 Low-pass filter and chokes inside below radiodesk..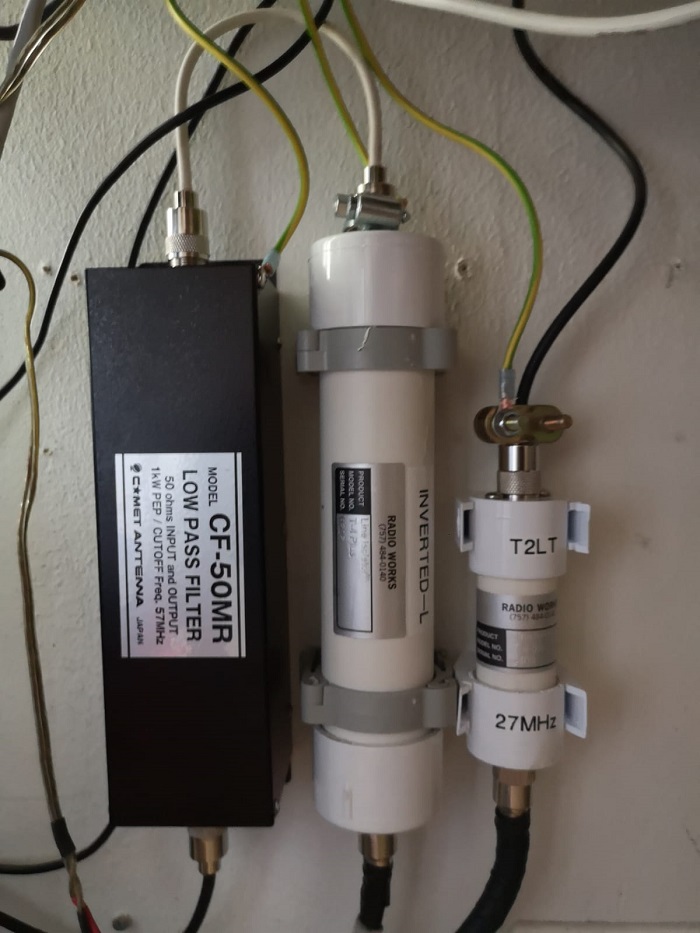 Mobile Shack


We are also often on-air from /mobile with HF- and V-UHF equipments.


Radios:
HF
: Yaesu FT891 for HF.

VHF / UHF:
Kenwood TM-D-710A 2m/70cm FM+APRS TRX (aprs SSID
OH6PV-9
)

Antennas:
HF: 80m Diamond HF-80CL, 20m Diamond HF80FX, 2m/70cm Diamond NR-770.
There is still some space to install few more?. All antennas installed with fixed UHF-mounts.